for delivery and general terms and conditions please contact us by email.
Family book 1938 – documents (errata and GS-conversion list)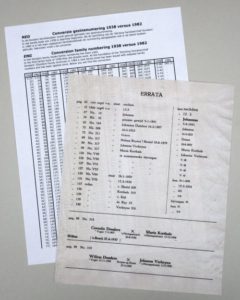 For this family book of 1938 an Errata was published. The foundation was able to get a sample of this document.
From the family book 1982 onwards (start of the foundation) an adapted system for family numbers has been applied. With this special created conversion list the "1938 families" can be easily traced in the newer books.
Are you a member/subscriber of the foundation Donders family and are interested? Please contact us via the contact page. You will get 2 Word documents (A4) sent via e-mail.
Family book 1982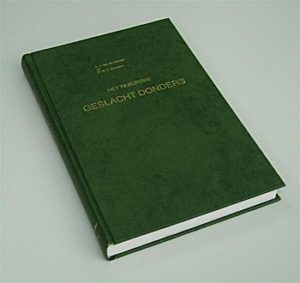 The foundation has three samples of this 1982 family book. This is for sale for family members only. This 1982 version is published at the start of the foundation and is so its first publication.
Do you like to order this book, please contact the secretaryship.
Donders wines




For special occasions a wine with the Donders coat of arms. Choice from white or red (0,75 ltr.). For further details like price, quantity and ordering the firm "Robbers en van den Hoogen" in Arnhem (NL) has to be contacted.
http://www.robbersenvandenhoogen.nl/shop_product.asp?stap=1&productgroepid=88&apgid=0&bezoeker=2